Oh boy, this story is so sad that it is hard for me to type it without getting angry. But hopefully the next time or BEFORE the next time this loser pulls this on another woman, they will find this entry first.
My sister-in-law met a loser on Yahoo even though I have tried to point out to her that Yahoo is AOL junior when to comes to meeting people (I will never forget the one time I went to a party of mostly AOL people in Cincy. They all sat around one computer in a partially cleaned house and told one person what to type because they could not handle logging off).
Loser reports his name as Andrew Raymond Tower, araytower@yahoo.com, and runs her full of complete lies as he is incapable of telling the truth. In fact he is a lying sack of human excrement. Not only is he a balding piece of filth, but he is a scrawny-pansy-ass-lying-freak, and from what I can find about him online he even sucks in bed. So he told her about his website at http://www.towernetworks.net/newssi2.html (not direct linking as this scum deserves nothing) and if you visit, you can clearly see it is the work of an AOL level mentality because it represents pathetic design, poor choice of colors, graphics, and content. This bastard is so lame he has even sported a mullet!
One of his admirers can be found at http://www.geocities.com/miss_p_2u/ where she tells the story of his baby and his refusal to put his name on the birth certificate. The bastard lied to my sister-in-law and said he could not have children. I love the pictures of him there… he just oozes loserdom!
Another of his cheerleaders (heh) can be found at http://au.profiles.yahoo.com/ceana_1164 and I LOVE her quote, "Not all men are evil, lying bastards, just Andrew Raymond Tower."
Oh and perhaps I interject with my personal feelings here, but based on his heavy work for iguanas I have a feeling that perhaps his actual species is cold blooded and scale covered just like them. He is obviously not a human being as he preys on women and hasn't a truthful, honest bone in his body. You can find out more about his iguana love at http://www.pethobbyist.com/adoption/view.php?f_entry=295. Lizard loving wussy boy. Lizard love may be a warning sign to avoid in potential dates and it is obvious that Andrew Tower has a forked tongue.
So she meets this supposedly "single" loser who claims to have been divorced for 6 years ( he is not divorced ) and they date for a few weeks during which the pathetic schmuck even goes so far as to borrow her videos as he leaves from their last date. He gives her the story of a match made in heaven, plays her for all he is worth and then he drives off in his nasty green car.
So when he gets home to his house, Andrew Raymond Tower, born in December of '69 parks at 202 Madison Ave in Flint, Michigan and then no contact is made for days with my sister-in-law while she sits wondering what on earth happened to him. Sitting in his shitty little tract house that is more tarpaper shack than home, he uses a different IM account to message her and pretends to be his own brother. He lies (again) saying that he had been killed in a car wreck. No such wreck occurred, no one of that name died in Michigan for the last 90 days. Car accidents seem to be one of his fascinations because he is a gimpy toad and explains away his nasty leg scars with being hit by a car 3 times in his life, then he makes a death story of being hit by one. This loser couldn't even be man enough to tell her he didn't want to see her anymore to her face. Instead, he does what comes naturally to him and lies with no regard for her feelings. I want to point out that this all happened during the end of September to Mid-October of 2005… do you know where your lizard is?
Some of his publicly findable phone numbers are (810) 249-6622 and (810)7017866. I cannot verify either is current as I am a man (so please do not call being all rude and get the wrong person), and I do not talk to little boys like this one. You know, what really pissed me off on top of his behavior is that my sister-in-law talked about all men being bad, as if this loser was anything resembling a man. He is a boy not a man!
I hope other women find this blog before they trust him or even talk to him, and let this be a lesson. If you meet someone online you can believe NOTHING until it is proven. Remember ladies, (and probably boys based on his appearance) Andrew Tower is a lying sack of excrement. Just in case you are not sure you are dealing with the same lizard, here is a pic of him!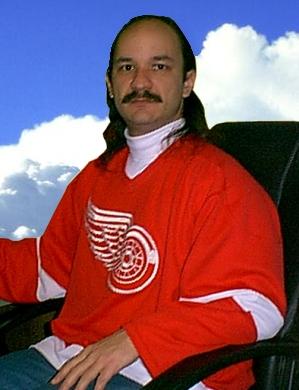 BTW his Yahoo profile shows a picture of a penis,and I have it on good authority that it is not his, unless he blew it up about 400%.