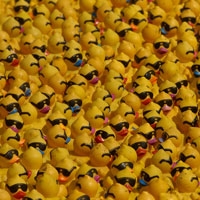 You still have time to buy a duck (nah, buy at least six) for Cincy's 18th Annual Rubber Duck Regatta taking place Sunday, September 2 during the P&G Riverfest.
An estimated 150,000 ducks will be dropped into the Ohio River and the owner of the first duck to cross the finish line wins a 2012 Honda Civic, and if their duck is the "Million Dollar Duck" they get – you guessed it – a million buckaroos (you don't know how hard I had to fight the urge to write duckaroos just then). The owner of the second place duck will receive $100 from Kroger every week for a year, and five additional runners-up will win $500 cash from KEMBA Credit Union.
Soon after we moved down here, I learned that the Rubber Duck Regatta is the Freestore Foodbank's largest annual fundraising event, netting approximately $550,000 each year. I read on their webpage that the event has cumulatively raised nearly $6 million for the Freestore Foodbank and its more than 315 non-profit partner agencies. It's a fun-spirited way to gain community awareness in regards to the very real problem of poverty and hunger in the region, and as a newcomer to this city, it's amazing to see how the community responds with such generosity!