This concert was in 1993, just in case you were still thinking this was a "new movement." But perhaps this anthem is more relevant now than ever before. People across America are finally rising up off their couches and gathering in the streets. Are we going to let them turn this Land of the Free into the Land of the Imprisoned?
The quote he's shouting in the beginning comes from Eldridge Cleaver. Say what you will about his politics, the Black Panthers, his religious conversions and what-have-you, but this quote still provides clarity and insight all these years later: "They have deadly weapons with which to inflict pain on the human body. They know how to bring about horrible deaths. They have clubs with which to beat the body and the head. They have bullets and guns with which to tear holes in the flesh, to smash bones, to disable and kill. They use force, to make you do what the deciders have decided you must do. They will use all that is necessary to bring you to your knees."
Still don't think the government is doing all that is necessary to bring it's citizens to their knees?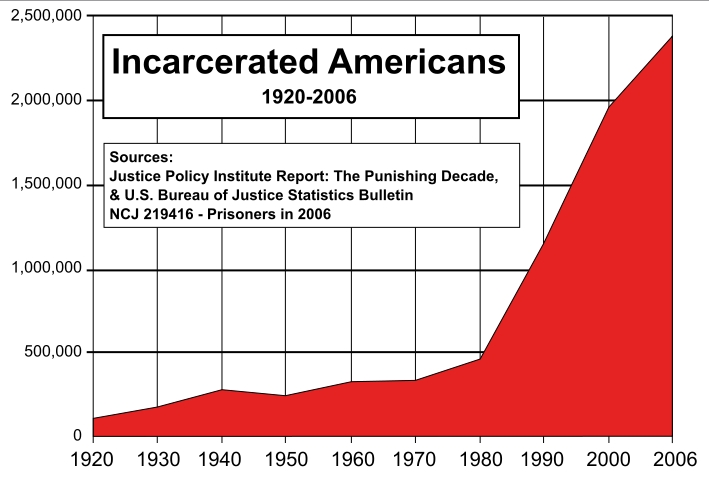 I want to know why our prisons are overflowing with non-violent offenders. This isn't just a rant about drug-law reform or prohibition, I think you all know by now how I feel about that. This is about taking a good hard look at the stats and starting a conversation about what is required to implement a system with a better semblance of balance. Now, think about this for a moment: there are more black men in prison right now than there are in college. Nearly one in three black males aged 20–29 are under some form of criminal justice supervision (imprisoned, jailed, on parole or probation) and one in nine black Americans will be incarcerated between the ages of 20 and 34. To add insult to injury, the majority of African Americans (ex. 55% in Chicago) are labeled felons for life, and, as a result, may be prevented from voting, accessing public housing or student loans or other public assistance, not to mention the negative impact this has on their families, dependents, and community.* Does that sound like freedom to you? No? Me neither.
*Stats taken from: http://en.wikipedia.org/wiki/Incarceration_in_the_United_States and http://en.wikipedia.org/wiki/Statistics_of_incarcerated_African-American_males