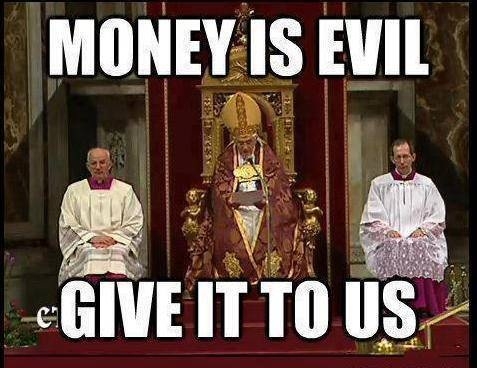 There should not be a single needy person in America.
The Republicans are right. Government should not be carrying the heavy burden of providing for this nation's poor and needy alone. That responsibility has been clearly given to the followers of Christ, and since 3 out of 4 Americans claim to be Christian, it could be said that poverty exists in this country as a direct result of their errant greed and idolatry. If every Christian sold their possessions and gave half of it to the needy, it could potentially stop hunger, homelessness, and blight in America right in their tracks. It has always befuddled me that there are so many rich Christians in this country fighting to amass wealth for themselves while voting against government-funded health and welfare programs because the Bible pulls no punches when it deals with the issues of wealth and need. To quote only a sample of verses from the Old Testament, Deut 15:7 says, "If there is a poor man among your brothers in any of the towns of the land that the LORD your God is giving you, do not be hardhearted or tightfisted toward your poor brother."
And Prov 14:31 states, "He who oppresses the poor shows contempt for their Maker, but whoever is kind to the needy honors God."
To further educate early Christians about the importance of giving, scripture indicates that it was fully expected of Christians then and in the future to avoid wealth and give to the needy (see 1 Corinthians 13:3, James 2:5, 2 Corinthians 9:9, Luke 14:13, Acts 10:2, just to name a few), but let's take a look at the direct words attributed to Jesus. Three of the four gospels include a story about how Jesus instructs a wealthy young man to sell everything he has and give it away to the poor in order to lay up riches in heaven instead (Matthew 19:21, Mark 10:21, Luke 18:22). Jesus said this sort of thing not only to one man, but to many:
Matthew 6:2 "So when you give to the needy, do not announce it with trumpets, as the hypocrites do in the synagogues and on the streets, to be honored by men…"
Matthew 6:19-20 "Do not store up for yourselves treasures on earth, where moth and rust destroy, and where thieves break in and steal. But store up for yourselves treasures in heaven, where moth and rust do not destroy, and where thieves do not break in and steal.
Mark 10:23 And Jesus looked around and said to his disciples, "How hard it will be for those who have riches to enter the kingdom of God!"
Luke 14:33 "…whosoever he be of you that forsaketh not all that he hath, he cannot be my disciple."
Luke 6:20 "Blessed are you poor, for yours is the kingdom of God."
Luke 6:24 "But woe to you who are rich, for you have already received your comfort.
The Jesus depicted in the NT knew that there would always be poor among us. Obviously, it troubled him a great deal to see such disparity of wealth. If this account in Luke 19:8-9 is to be taken into consideration, Jesus would be pleased even if Christians would give away only half of their wealth. "And Zacchaeus stood and said to the Lord, "Behold, Lord, the half of my goods I give to the poor; and if I have defrauded any one of anything, I restore it fourfold." And Jesus said to him, "Today salvation has come to this house…"
I'm not here to preach to Christians about how they should be emulating their savior god. I just felt the need to rant about the glaring irony I see in how the growing number of conservative fundamental Christians and rich, tax-evading GOPs who point to the Bible to validate inequality and oppression in the modern era, these same people have the gall to call themselves followers of Christ but reject his repeated, clear and very simple instructions and IGNORE his warnings. You're going to stand in judgment of the way another man lives his life but you're not willing to apply your gods instruction to your own life? Didn't Jesus warn about that also, ol' Plank-Eye?
It's simple. Here's how you do it:
* How to sell your excess crap for cash
* How to sell everything you own
* Sell your crap
Need a little inspiration?

And if you're so inclined, you could change the mother-flippin WORLD by giving selflessly. This woman's life work should be an inspiration to us all…

Or you can skip all that stuff and rationalize that you don't need some hokey ancient stories to tell you how to be good to those who are less fortunate.