Those of you who have been following my blog over the years might recall a few posts regarding Andrew Tower, a lying jerk (putting it mildly) who also goes by the alias Drew Perez. A few years back, I was asked to consider removing the blog posts and comments from the numerous women who were scammed by him and my response at the time was that I would keep them up as long as women kept writing to tell me he'd screwed them over. Guess that was a good call because he's on the loose again and seems to have gone right back to his lying, cheating ways.
The following comes from an email I received from his latest victim:
—————————–
As of July, 2012, he is still up to his lies and deceit. He is now posing as a photographer! He found me on a social network (he is also on face book!) and lured me into meeting him by asking to take my picture for his portfolio.
He now claims: he was in the navy as a seal for 16 years; he is a photographer; he is divorced (but doesn't share the information that his ex wife still lives with him); he claims his sons live with him 6 months and their mother 6 months; he claims he has 11 brothers and one sister; he claims his mother, after 30 years of marriage to his father, divorced his father and married a man she met on the internet; he claims his ancestry is from Cuba. According to him his great grandfather was exiled from Cuba! Drama, drama, drama hu?
I had been seeing him for a short time when I received a call from his 'ex-wife'. She said they are divorced but have been living together as 'significant others' for the past three years! SHE IS STILL WITH HIM! It was after this call that I googled his name. Google found the first blog you posted but I had to "search on Yahoo" to find this more current blog.
Yes, he's still doing most of the things you have written about from the time of the first blog.
Just know, He IS and will ALWAYS continue to do the things he has done… for what ever reason he has this "need", it is a part of the fiber of who he is, and he will NEVER change. All you can do is educate those that are unaware to this kind of behavior.
Thank you for keeping this blog going! It opened MY eyes to his sickness and to STAY AWAY FROM HIM!
——————-
She also included a more current picture of Andrew: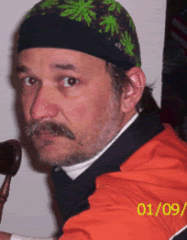 Luckily, it appears that she caught on early and was spared from the immense heartache, shame and self-doubt that many women have dealt with in the past due to his games and lies. Also, she didn't mention anything in regards to having been taken for a ride financially, nor did she mention having anything stolen. So there's that. The ultimate lesson I think we can all learn from this would be the importance of searching for background information on the people you talk to online if you decide to meet in real life. Be safe.
I hope someday, Andrew and his wife will seek the psychiatric help they truly need. I also hope that this woman's update will serve as a warning to anyone else who has the misfortune of being marked as his next targeted victim(s).
Related posts:
Andrew Tower is a lying lizard
Andrew Tower is a lying lizard Update
The Big Controversy Over a Pathetic Little Loser
Drew Perez: The Latest Chapter of the Andrew Raymond Tower Anti-Saga